Eavestrough & Gutter Cleaning Ottawa
Why clean your eavestroughs and gutters?
Reduce the breeding of mosquitoes - Mosquitoes breed in standing water such as blocked or poorly sloped eavestroughs and gutters. By regularly maintaining your eavestroughs you are increasing your protection from the West Nile virus.

Reduce the amount of water traveling near your foundation - Water traveling near your foundation has the potential to leak inside your home causing major problems.


Prevent your eavestroughs and gutters from falling off your house! - Gutter debris can be heavy especially if they are plugged and full of water. Full gutters can pull away from your house and may need to be repaired or even replaced if the problem persists.
Eavestrough and Gutter Polishing
Over time the underside of your eavestroughs and gutters will start to look black and will need to be polished to restore the original look. Below is a before and after photo of a typical gutter that is found on nearly every home. Our technicians are trained to restore the look of your gutters. Generally when this service is performed there is also a need for pressure washing of your exterior surfaces.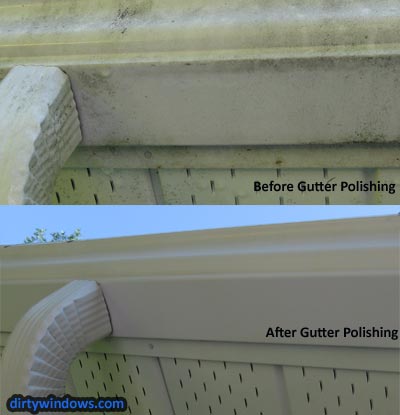 Quotes
Click here to request a quote.
Related Services
Health & Safety
Worker safety is extremely important to us. We ensure our staff are well trained to perform their work safely. Our Health & Safety policy includes safety training for:
W.H.M.I.S
Fall Arrest
Ladder Safety
Aerial Work Platform
Suspended Access